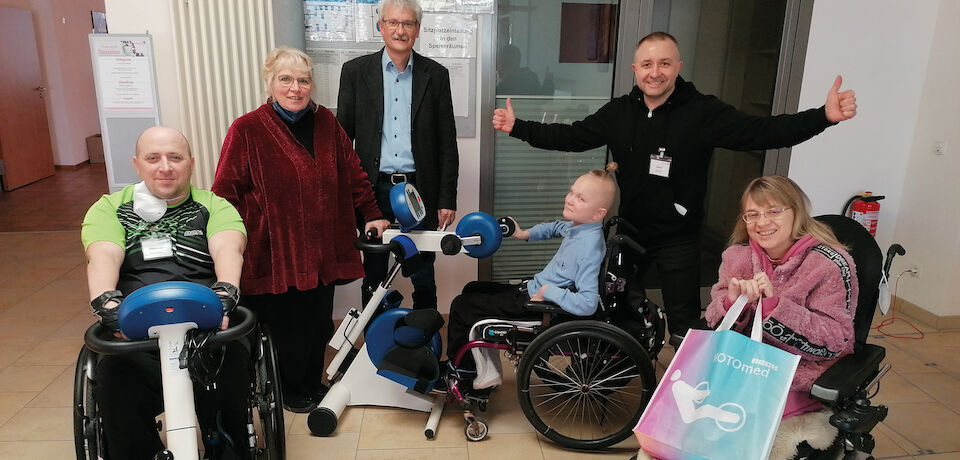 Marion Koch helps refugees with disabilities from Ukraine – MOTOmed provides three movement therapy devices.
At the beginning of March, Marion Koch, the mother of Samuel Koch, spontaneously went to Ukraine with a team of helpers to help 33 people escape from the war zone, among them many with disabilities. They were on the road with five cars and two large buses for transporting people with disabilities. Martina Köninger from the "Perspektivforum Behinderung" organized the trip - the drivers, the rest stops and the permits. Marion Koch immediately supported her, was ready to accompany the trip and to drive parts of the route, because men are currently not allowed to enter Ukraine. Fortunately, the return trip via Poland back to Germany went without incident.
There was no real joy about the departure; all occupants were understandably quite depressed: the uncertainty about what and whom they had left behind was too great; uncertain also about what the future would bring. Shortly before departure in Germany, we received a personal call from Marion Koch asking whether RECK-Technik GmbH & Co. KG could provide a MOTOmed. We immediately arranged this and were pleased to be able to make a small contribution. So it was a pleasure for us when we were able to hand over three MOTOmed viva2 light movement therapy devices to the refugees in the Schönblick guesthouse in Schwäbisch Gmünd on 8 March for future, constructive training. (Source: faz.net)
Quote Marion Koch: "This is the best thing that could have happened to us here now. It helps us more than any physiotherapist we have to apply for at the health insurance companies! We are all extremely grateful and totally happy that Reck has now reacted so quickly and optimally."
In previous years, there were already friendly solidarity contacts with the association of Marion Koch "Samuel Koch und Freunde e. V.": Donation at the beginning of 2020 to the association for the construction of a wellness and leisure facility for relatives and affected persons as well as a MOTOmed viva2 for Samuel Koch, who has been paraplegic since his accident at "Wetten, dass...?" in 2010, as a small contribution to his recovery (Source: ZDF Reportage, 37 Grad, 2019).
Go back to the overview